Kiara Daswani was living in the San Francisco Bay Area working in the tech industry when she discovered BODYROK through ClassPass, an app that gives subscribers access to a variety of gyms, fitness studios, salons and spas. She loved the workout so much that she became a member of the studio and had dreams of becoming an instructor until the COVID-19 pandemic forced it to close. When it reopened in 2021 and offered instructor training, Kiara signed up.
Searching for rewarding work
Kiara was working long hours at her tech industry job, where she was a manager with several direct reports. Despite working with good people and enjoying professional success, she found that she was searching for a job with better work-life balance. In addition to her full-time job, she was teaching part time at several BODYROK locations. Because her primary job was work from home, she was drawn to the community and in-person connections that she found at the studio, and she soon realized that her heart was at BODYROK. "I was finding myself teaching probably more than I should with a full-time tech job," says Kiara. "I was taking every opportunity to go to the studio and teach, and I had a reassessment of what I was doing."
Making the leap to franchise ownership
Kiara decided to meet with the studio owner who had trained her as an instructor to explore her options for working at BODYROK full time. Based on her goals of eventually being able to support herself and her fiancé, Kyle Wilson, franchise ownership turned out to be the best option. Kiara decided to invest. "I never really expected myself to open a franchise if I'm being honest," says Kiara. "I think things just lined up in the fact that I was super passionate about the workout and I wanted to figure out a way to make it my full-time job."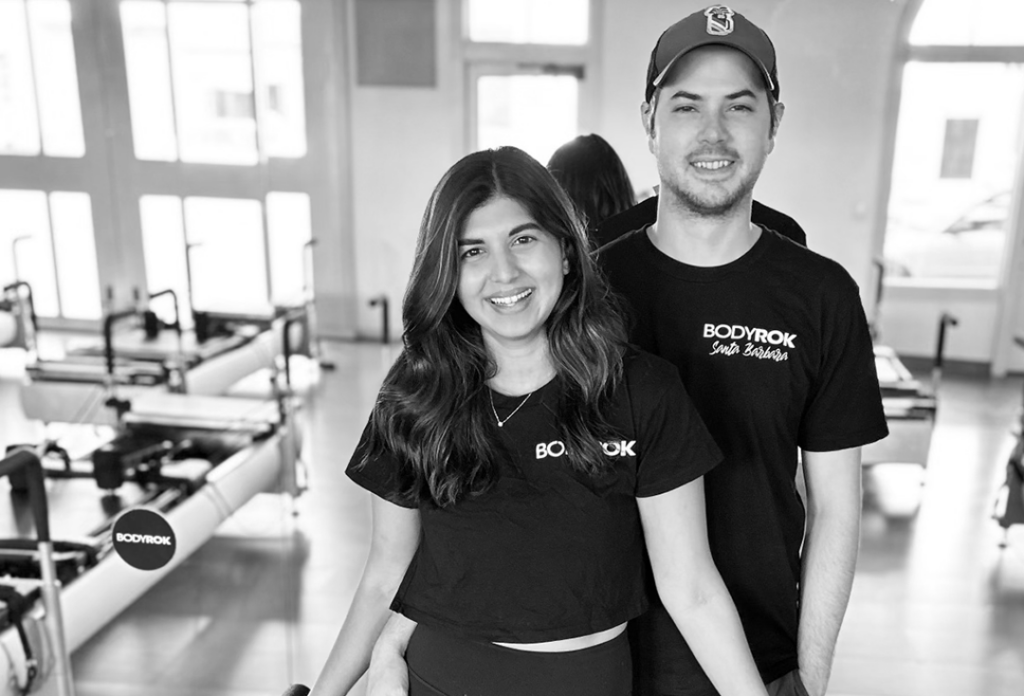 Building the business
In late February/early March of 2023, Kiara and Kyle signed up to own and open three BODYROK studios over the next three years. They were able to find a location in downtown Santa Barbara, California, that had previously been a fitness studio. With the correct zoning in place and a space that needed minimal modifications, they were able to open quickly, welcoming people to the studio on May 22.
The BODYROK corporate team was there to support Kiara and Kyle from the beginning. "A big part was having the support of that franchise network and the support of the corporate team," Kiara says, adding that the BODYROK connections and experience helped her with everything from which vendors to use to marketing support as they worked to get the word out and sell founding studio memberships. By using the BODYROK marketing team's strategy, they sold almost 150 memberships before they even opened the studio doors.
Bringing the BODYROK experience to Santa Barbara and beyond
Kiara found that Santa Barbara was the perfect location for a Pilates studio franchise, thanks to the popularity of the workout and limited direct competition. Members like the welcoming community at the studio and the fact that BODYROK offers modifications to help make the workout more inclusive for people of all fitness levels. The lights, music and proprietary equipment create an immersive, next-level Pilates experience that sets BODYROK apart from the rest.
She and her fiancé are currently looking for their second location and working to get a full team together to manage their Santa Barbara studio. "The cool thing about the BODYROK model is it kind of runs itself at some point," says Kiara. "There's not that many monthly expenses. Maintenance is actually relatively low once you've got it fully running."
Getting started with BODYROK
So, what does it take to own a BODYROK and bring this experience to your community? Kiara recommends being an organized person that's willing to put a lot of time and effort into building your business. "It's really cool to see your hard work literally translate into a dollar value that is yours," she says. Having a passion for the workout and knowing how to effectively run a team will also help you be successful as a BODYROK Franchise Owner.
If you're looking for the best fitness franchise, BODYROK is a unique opportunity that's growing strong. Territories are available across the U.S., and right now you can save more when you invest more: Open three units for a total franchise fee of $60,000. If you're ready to explore this opportunity, fill out the form below.